devil in Icelandic. Most of the known examples owe their existence to the fact that it was not considered proper to name the devil, so he was referred to by nicknames or by mutation of his name. In the Icelandic thesaurus the following words are listed under fjandi (devil):
andskoti
ansakornið
árakornið
ári
defill
deli
défsi
déll
déskoti
dífill
djangi
djanki
djöfsi
sá fetótti
fjandakornið
fjári
freistarinn
Gamli í Niðurkoti
grefill
jónskoti
kölski
ólukki
paufi
paur
pauri
pokur
rækall
rækarl
sá í neðra
sá vondi
skolli
skrambi
skratti
skufsi
tremill
þremill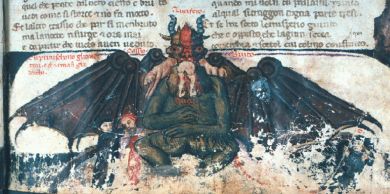 A picture from the 14th century showing Lucifer in Dante's Inferno. Lucifer has three heads and continuously chews three arch traitors: Judas, Brutus and Cassius. The image can be clicked for a larger version.


Under kölski (devil) one can find more names:
sá eineygði
flugnahöfðingi
sá gamli
sá gráskjótti
sá hrosshæfði
sá kolbíldótti
kolbíldur
ljótikallinn
myrkrahöfðingi
óvinur
satan
vomur
Under ári (devil) one can find in addition:
bölvættur
drýsildjöfull
drýsill
illdéfli
and under andskoti (devil):
ankoti
ansi
antoti
asskolli
asskoti
assvíti.
This is a total of 61 distinct names for the devil, but not all such words appear in writing and thus difficult to collect all the instances. Translated by Paul Richardson. Further answers in English: Picture: Godphoto

It is difficult to say how many words there are for